Washi adhesive tape is widely used for paper pasting, beautification, layout, DIY, and other purposes because it is widely made in various colors. Next, we will introduce the process of washi tape.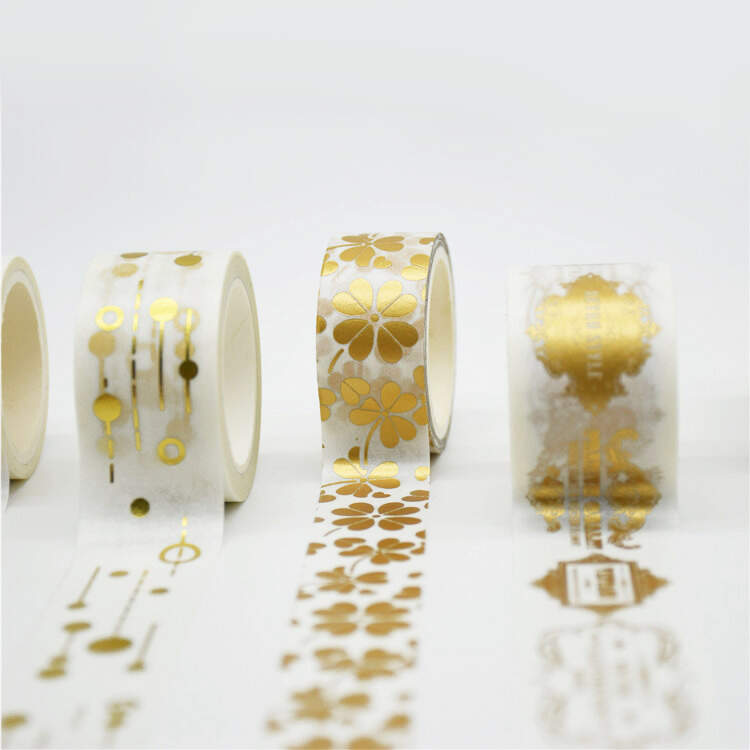 Fog printing
The most basic printing method is matte printing. Some homemade and paper are naturally oily.
Gold/silver stamping
Use the hot or cold pressing process to make the tape pattern appear in metallic gold and silver color. There are also two-color gold/silver stamping and color gold stamping.
Laser
Like bronzing, it can provide a sense of metal, but from different angles, it will have different polarized colors. The most famous and representative tape is Black Lacquer Embedded Mother of pearl produced by the Forbidden City.
Special ink
Use special ink to make the pattern refract light in strong light or at a specific angle through positioning printing, which is simply to make the pattern look like a cloth. It is also used to create a three-dimensional sense of patterns.
White ink process
A layer of white ink is added between the bottom of the pattern and the paper to make the pattern opaque, and the pattern below will not be revealed after being pasted on the paper (that is, the transparency of the pattern with the paper itself is not required). It is mainly applied to patterns with more white parts. In addition, white ink will make the patterns more colorful, and some patterns with too light colors will also use white ink.
There are full white ink and partial white ink. Full white ink is white ink at the bottom of the whole pattern, and partial white ink is white ink used in a certain part of the pattern to highlight the three-dimensional. The disadvantage of white ink is that it will directly cause the part where the pattern is located to thicken and slightly deform the paper, but it will not affect the effect after it is pasted on the paper.
Mixed process
It is printed by several processes. The common ones are partial gilding+special oil, partial white ink+special oil, and white ink+gilding. The price will increase due to the process.