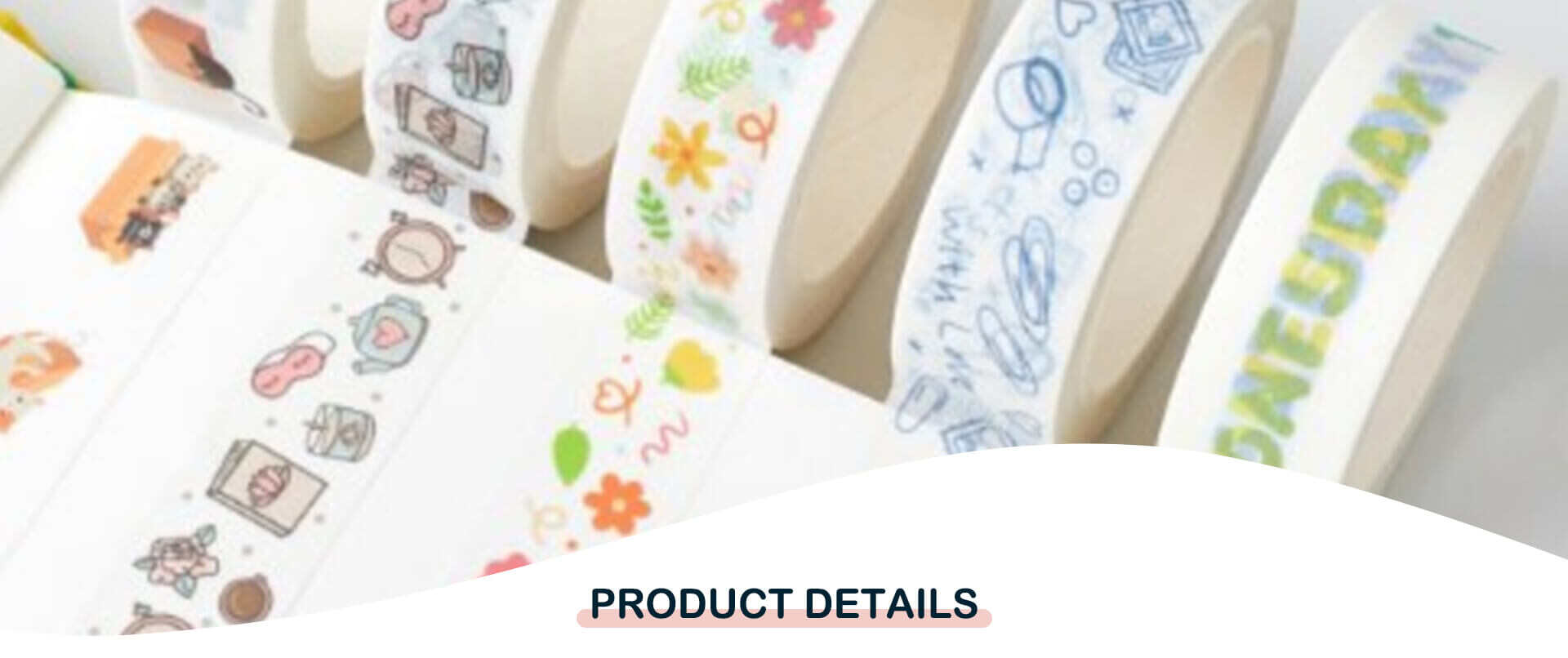 Product introduction:
With this new easy-to-use overlay volume, you can create a custom pattern in seconds for the first time. This is a revolutionary product that allows you to create your own professional design. Put a piece of paper in an overlapping roll and you can reuse your custom pattern in a few seconds! Our custom paper and tape are perfect for all your art and craft projects. You can use it for scrapbooks, gift packaging, Gift Labels, decorative journals and planners, decorative works of art, etc. With so many unique and interesting patterns to choose from, you will be able to create amazing designs that no one else can surpass!
Product features:
1. Make your own very cool and unique tape design and color with our custom printed overlay roll. Just wrap the tape around the surface to create your own custom pattern, or use it to make cheerful gift wrapping paper or decorative paper on any surface that needs color. Display your original patterns, photos and drawings on custom printed paper and overlapping tape. Create your own personal profile to track or decorate any project you want. This is a simple way to create color patterns suitable for any occasion!
2. Custom printed color paper tape - the perfect tape for scrapbooks, art journals and any craft project you can think of. And paper add instant colors, patterns, and sizes to anything. Customize your own pattern. The overlapping roll is a full width roll with the same pattern printed on both sides.
3. Customize your life with this series of colorful Japanese decorative tapes. This product can easily add personal style to your craft projects, school homework, office supplies and anything else! Use this overlapping paper tape to create your own color design. This tape is made of 100% polyester and has high flexibility. When applied to materials such as paper, glass, wood and other surfaces, it can maintain clean edges and curves.
4. Overlapping patterns are designed to allow you to overlap and paste them on paper, cards, photos and many other things. This paper and tape can be used not only for decoration, but also for practical purposes, such as sealing envelopes and making picture cards. This will be a great DIY project craft supplies!
5. And paper tape is an interesting and simple way to add colorful accents to gift packaging, scrapbook pages, party decorations, etc. It can be used alone or in combination with other ribbons and packaging materials to create custom patterns. Create your own pattern to overlap with our paper and tape! Have fun and be creative. You} can even add more than one color to the mix.
Other services: when you become our strategic partner, we will provide the latest process samples for each batch of your goods free of charge. You can enjoy our distributor price
Customized packaging: heat shrinkable packaging (ordinary) / pet box / carton / business card / plastic tube / OPP bag / label sealing / can be customized according to your requirements