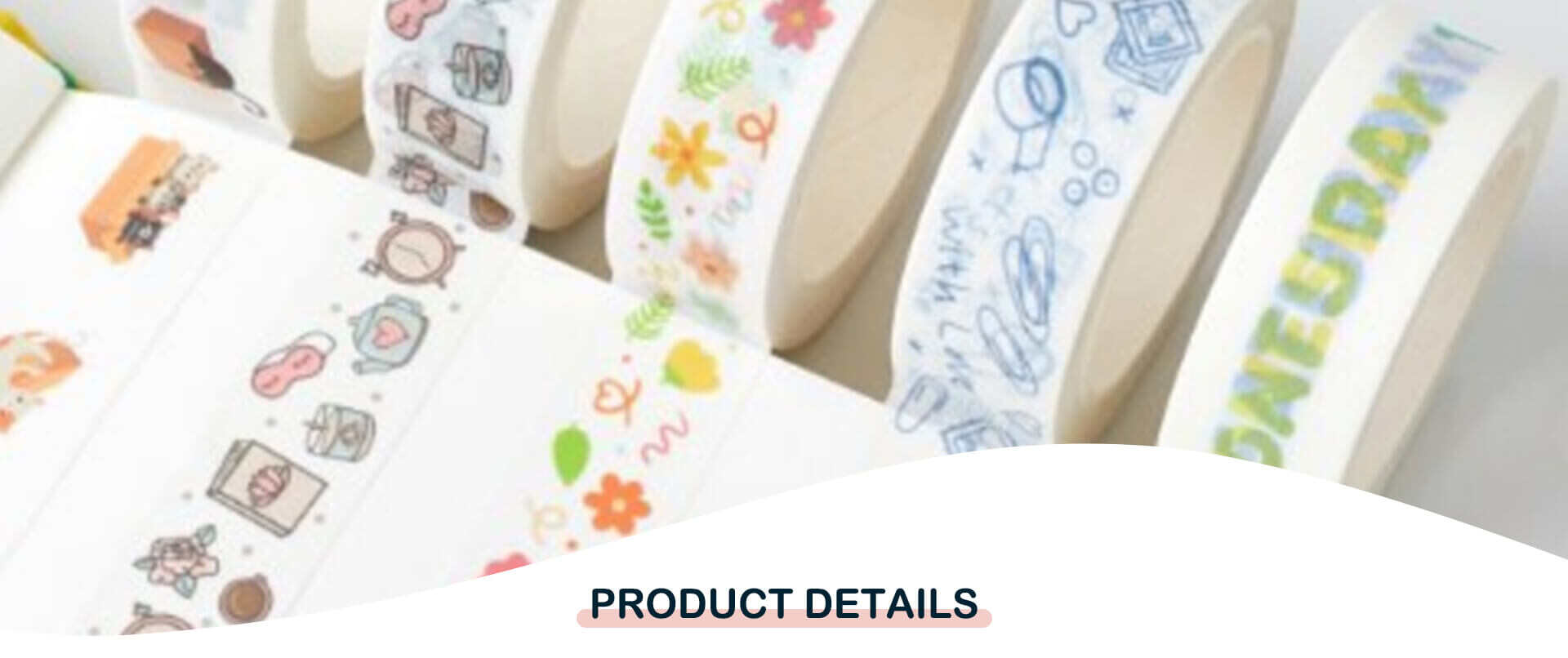 Product introduction:
Our perforated overlay foil tape supplier is the best place to visit perforated overlay foil printing paper tape for planners, notebooks and many other daily purposes. We offer a wide range of perforated covering foil printing and paper tape, with many different colors and patterns, such as flowers, Datura, lovely animals, geometry, etc.

Product features:
1. The covering layer is an adhesive film with printed pattern, which is applied to the product surface. It allows end users to personalize their products by adding the required design. We are a B2B supplier of perforated covering foil tape for promotional gifts. Our aluminum foil tape products can also be used to decorate various products, such as photo frames, books, calendars and personal plans. In addition to providing the best quality products and services, we promise to provide you with the most competitive price.
2. You can give your planner a new look by replacing the tape on it. Our tape is made of high quality perforated paper foil and waterproof acrylic adhesive. It will be polished well with your favorite planner! We provide a variety of colors to meet your needs, and even help you customize! This list applies to the planner's custom perforated cover foil printing and paper tape. The width and length can be customized. Just tell us what you need in the information box when checking out!
3. Perforated covering foil tape is a high-quality custom printing tape with affordable price. These tapes are designed to be used as plan stickers or plan decorations, or sometimes as gift wrapping paper. You can use this colorful and shiny paper tape to add a beautiful personal style to your planner. When creating a schedule and want to highlight important tasks? Use these perforated aluminum foil printing tapes! They can not only help you make the most of your planner, but also increase your personal style. Get it today!
4. We have expertise in foil printing technology and use the right materials to create a lasting finish with a unique design. Our products are flexible, easy to apply and remove, waterproof, safe and environmentally friendly. We have been creating our own design from the beginning and fully control the whole process from design to delivery. We provide high-quality perforated covering foil tape suppliers for planners and scrapbooks. These tapes provide a wonderful design that is perfect for all your planners, arts and crafts. Aluminum foil is custom printed, which means that each strip is designed to fit your planner's page. This ensures that you not only get a great finish, but also provide additional protection for your page.
Other services: when you become our strategic partner, we will provide the latest process samples for each batch of your goods free of charge. You can enjoy our distributor price
Customized packaging: heat shrinkable packaging (ordinary) / pet box / carton / business card / plastic tube / OPP bag / label sealing / can be customized according to your requirements